SF State's Facility Services is responsible for providing high quality maintenance, repair, and housekeeping services to San Francisco State's housing community. If you need maintenance services, you may connect with our Facilities Services team through one of the following methods:
Online
Phone or Email
Customer Service Center
🕗 Hours | Monday - Friday 8 a.m. to 11 p.m. | Saturday - Sunday 9 a.m. to 11 p.m.
📞 Phone | (415) 405-0579 or (415) 338-1568 
📧 Email | facilities@sfsu.edu 
Please Note: Service requests submitted between 8 a.m. and 5 p.m. will be processed same business day. Service requests submitted between 5 p.m. and 11 p.m. may be processed the next business day.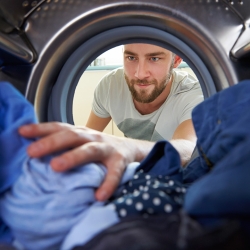 Have Washer or Dryer Issue?
Submit a service request with our service partner, CSC ServiceWorks.
For after hours emergencies involving life safety or property damage, please contact the University Police Dispatch at (415) 338-7200.